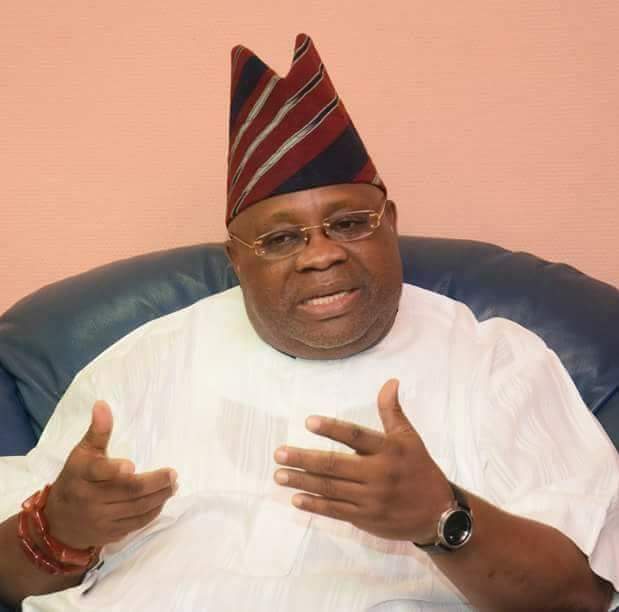 The People's Democratic Party (PDP)'s candidate for governorship election in Osun State, Sen. Ademola Adeleke, has called on Governor Rauf Aregbesola, to listen to the civil servants clamour for prompt payment of the arrears of their salaries and make life meaningful to them.
Adeleke who lamented government's failure to pay workers their salaries said that God frowned at such an act, noting that based on "divine instruction in all holy books, a labourer deserves his wages in good time."
The flagbearer stated this yesterday in Osogbo, the state capital, in a statement by the Head of Media and Public Communication of the PDP Campaign Organisation, Mr. Bamidele Salam.
He made the call against the backdrop of the three-day warning strike embarked upon yesterday by the workers, following the non-payment of a 34-month salary arrears, allowances and pensions owed by the government.
He wondered why Aregbesola "would neglect such a fundamental obligation of government for so long without any justifiable reason."
Adeleke held that "the civil service was the engine room for meticulous implementation of programmes and policies of any serious government and that the institution must be respected and highly motivated."
While commending the labour unions for their endurance and decision to resort to constitutional means of agitating for their rights, Adeleke promised that if elected governor, the PDP govern would obliterate all anti-workers policies of the Aregbesola administration and make them proud to be civil servants.
He, however, reiterated commitment to the welfare of the people of the state, insisting that he regarded leadership as a call to selfless service.
The party leadership also called on the governor to promptly respond to the demand of the workers by ordering immediate payment of the backlog of the workers' salaries and allowances.
The chairman of the party, Soji Adagunodo, made the call in statement made available to Daily Sun, in Osogbo, on Wednesday.
He described the nonpayment of the workers' and pensioners' financial entitlements as callous and unwarranted.
Adagunodo said that "government had no justification for the brazen oppression of workers who toil day and night to sustain the running of public institutions."
"To make matters worse, Ogbeni Aregbesola continues to make senior citizens who are pensioners objects of ridicule in the society by refusing to pay their meagre pensions and gratuities," Adagunodo said.
While expressing the party's solidarity with the workers, Adagunodo noted that "the workers' strike would have been averted if the governor hadn't abandoned his responsibilities to cater for the welfare and security of the greater number of the people of Osun State."
He added: "Rather than attend to the germane issues raised by the labour unions while the ultimatum lasted, Ogbeni Aregbesola was busy with desperate political campaigns to install his surrogate as the next governor.
"We condemn this gross insensitivity and call on the governor to immediately address the demands of the workers in order to save millions of innocent citizens from the consequences of a prolonged strike."