News In Nigeria: Top Nigerian Newspapers Headlines for Today, Feb. 16, 2019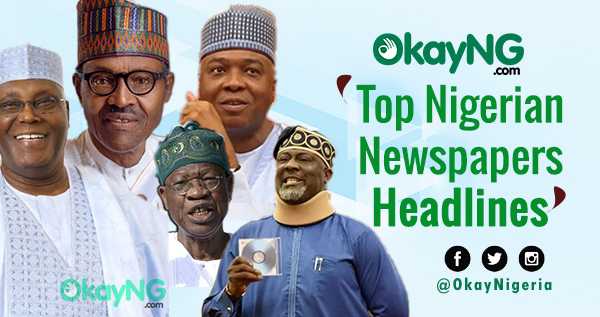 Good Morning readers,
Welcome to our daily segment of Top Nigerian Newspapers headlines for today, February 16, 2019.
Okay Nigeria, a Nigerian digital news platform rounds up the latest happenings around Nigeria.
1. REVEALED: Why INEC postponed presidential election to February 23rd – Read news HERE
2. OFFICIAL! INEC finally postpones presidential election to Feb. 23 – Read news HERE
3. BREAKING! 66 persons killed in Kajuru, Kaduna – Read news HERE
4. Two suspects arrested planting explosives on bridge in Ebonyi – Read news HERE
5. Atiku receives phone call from US Secretary of state ahead of elections – Read news HERE
6. EFCC releases phone numbers to report electoral fraud – Read news HERE
7. CCT grants Onnoghen bail, adjourns trial to March 11 – Read news HERE
8. Nnamdi Kanu backtracks, urges Biafrans to vote in 2019 general elections – Read news HERE
That's all for today's Top Nigerian Newspapers headlines, stay tuned to Okay Nigeria for more Latest News updates.