Kendall Jenner is busy keeping the Kardashian/Jenner name in the news, in the midst Kim Kardashian's sabbatical from the spotlight.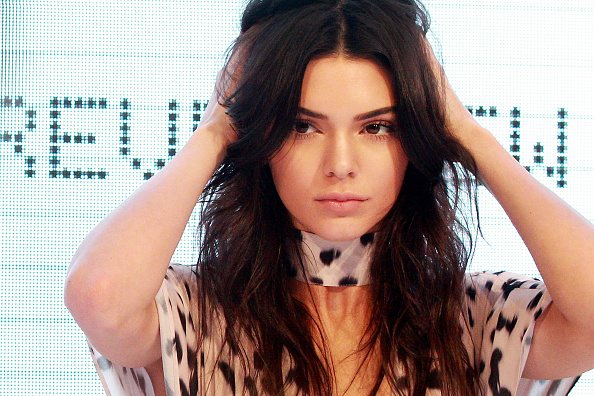 Kendall Jenner



---
Kendall's most recent Instagram photo is quite racy, compared to most of her other snapshots. Featuring Kendall and Kylie Jenner posing and smiling, the photo seems innocent enough. Upon closer inspection, however, users are given full view of Kendall's exposed nipples through her sheer black blouse.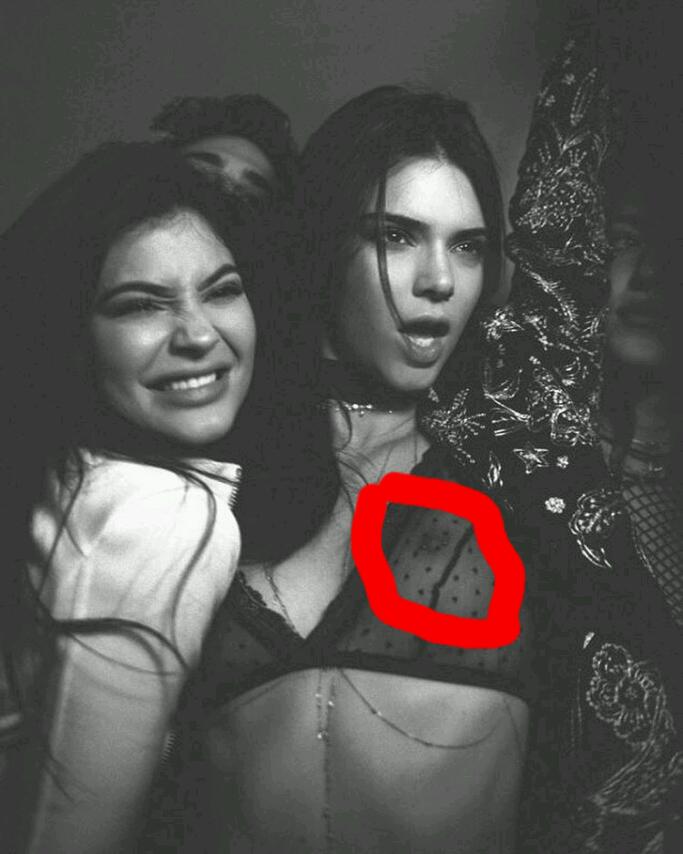 The Kendall Jenner's Instagram photo that has scooped 2.7 million likes



---
Needless to say, the photo has given Kendall the attention that she desired. It racked up over 2.7 million likes on Instagram in just one day. It also attracted the attention of R&B crooner, Chris Brown, who "liked" the risque photo.
To some, this is definitive proof that Brown is interested in Kendall.
Dating rumors surrounding Kendall and Chris first made waves in March of 2016, after the two were spotted hanging out on several occasions.



Chris Brown attends the L'Oreal Paris Blue Obsession Party at the annual 69th Cannes Film Festival at Hotel Martinez on May 18, 2016 in Cannes, France. [Image by Pascal Le Segretain/Getty Images]



---
A source told US Weekly that Kendall hung out at Chris's mansion until 5 am, after one of his video shoots and that Chris thinks that Kendall is so cute. Chris Brown also reportedly flew out to have dinner with Kendall when she was in Paris for Fashion Week.
Not much ever came from those rumors, however. In November, Chris Brown was photographed leaving Kendall Jenner's 21st birthday party, not with the model but with an unnamed woman. So, it could be that Brown's social media activity means Kendall Jenner is still on his radar, even if he has no plans to pursue her. In spite of this, Kendall is enjoying the attention from Brown, according to Hollywood Life .
"They have a special bond and in another life time they would be boyfriend and girlfriend. They love flirting with each other, but that's where the romance stops. Kendall doesn't want to jeopardize their friendship by dating. As far as Chris liking her sexy nipple pic, Kendall secretly loves the attention!"
Besides, both Kendall and Chris seem to be too preoccupied with other romantic prospects to think of each other as more than friends.
Kendall Jenner has been linked to several famous men over the past year, the most recent being pop star, Justin Bieber, although the two maintain that they are just friends. The most headline-inducing romance has, without a doubt, been with One Direction singer, Harry Styles. Both Jenner and Styles were linked together in early 2016 when they made several public appearances together.
Even Jenner's half-sister, Khloe Kardashian went on record to say that she believed the two were dating, though she didn't know their "title," after photographs of them cozying up on a yacht in St. Barts appeared online.



NEW YORK, NY – SEPTEMBER 09: Kendall Jenner attends Harper's Bazaar's celebration of "ICONS By Carine Roitfeld" presented by Infor, Laura Mercier, and Stella Artois at The Plaza Hotel on September 9, 2016 in New York City. (Photo by Dimitrios Kambouris/Getty Images for Harper's Bazaar)



---
In addition to Harry Styles, Kendall has also been linked with Asap Rocky and Jordan Clarkson, who she shared a kiss with on New Year's Eve, according to Hollywood Life .
Brown, on the other hand, is reportedly still pining for her ex-girlfriend, Karrueche Tran. After the up and coming actress posted a sultry photo to her Instagram page, Brown replied with "still want it."
It would seem that Chris didn't get the response that he was hoping for. A second photo that featured Karrueche Tran and two friends in the ocean garnered a similar response from Brown.
He wrote, "[Expletive] gone to log off! Bout to be in my feelings!" followed by an angry emoji.
Karrueche Tran called things off with Brown in 2015, after it was revealed that the singer had fathered a child outside of their relationship. To add insult to injury, Tran learned the news through TMZ , along with the rest of the world, which would explain her hesitancy to reunite with Brown.
For these reasons, it would seem that, though Kendall and Chris have had every opportunity to date, they're just better suited with other people.