News
Hand Over Babachir, Oke to EFCC For Investigation and Prosecution – Fayose Tells Buhari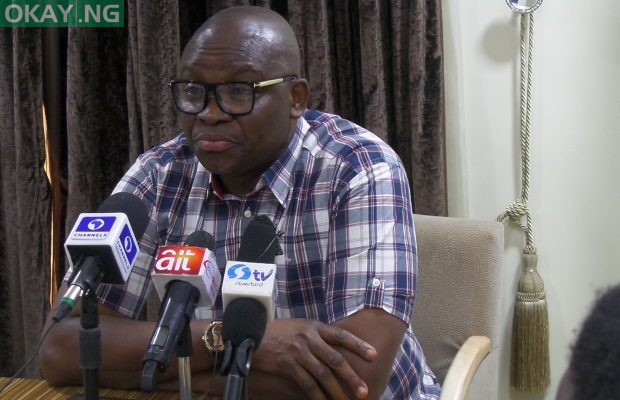 Governor Ayodele Fayose of Ekiti state says the sacking of the suspended Secretary to the Government of the Federation, Babachir Lawal, by President Muhammadu Buhari is not enough.
Fayose wants the president to hand over Lawal, and the Director General, National Intelligence Agency (NIA), Ayodele Oke, to the Economic and Financial Crimes Commission (EFCC) for thorough investigation and prosecution.
The governor, in a statement, said the sack of both men was face-saving and an afterthought.
He said, "The President only acted because of the outcry of Nigerians, especially over the fraudulent reinstatement of the former Chairman of the Presidential Task Force on Pension Reforms, Mr Abdullahi Maina."
Lawal was fired for his involvement in corruption activities in the award of contracts under the Presidential Initiative on North East.
Oke, on the other hand, was dismissed due to the discovery of large amounts of foreign and local currencies by the Economic and Financial Crimes Commission in a residential apartment at Osborne Towers, Ikoyi, Lagos, over which the NIA made a claim.
Both men had been on suspension since April 19, 2017.
And Fayose said in part, "Enough of using probe panels to shield people accused of corruption in Buhari's government. Rather, they should be arrested, detained and prosecuted by the EFCC as being done to others perceived as the President enemies. Once again, Nigerians have proved that the power of the president is not greater than that the people who elected him".
"What Nigerians expected from a President who rode to power on the basis of integrity is a total cleansing of his government, not setting up panel to investigate corruption allegations involving his men and reluctantly sacking a few of them because of public outcry. As far as I am concerned, sacking the SGF and NIA Director General is just an afterthought and it is not enough. Let them be handed over to the EFCC for prosecution just like other Nigerians that they have accused of corruption."