Gov. Ajimobi Condemns Gunmen Attack On Olubadan's Palace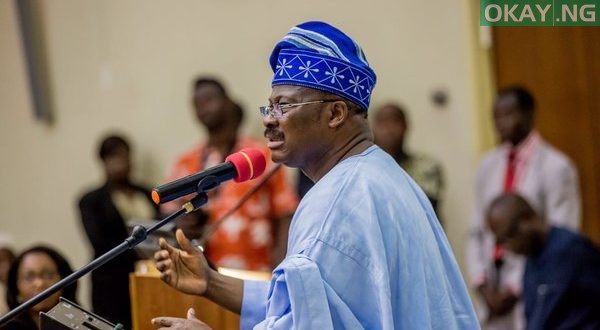 Governor Abiola Ajimobi of Oyo state has condemned the shooting spree that happened at the palace of the Olubadan of Ibadanland, Oba Saliu Adetunji, during the installation of four Baales.
Unknown gunmen stormed the palace to disrupt the installation of the new Baales by shooting sporadically at the palace.
Those who were at the scene when it happened was Oloye Sharafadeen Abiodun Alli, who is the Asaju Balogun Olubadan, and former Secretary to the State Governor during Senator Rashidi Ladoja's regime. His car was, however, destroyed.
It was further learnt that Senator Rashidi Ladoja was at the palace when the incident occurred.
However, despite attempts by the gunmen to stop the coronation, the coronation still held.
Reacting to the incident through his adviser, Governor Ajimobi condemned the act in its entirety and has directed security agencies to ensure that the masterminds are swiftly arrested, interrogated and brought to justice.
The governor has vowed not to brook anyone or group of people desirous of bringing back the regime of violence and brigandage to the state.
"He wishes to reiterate his commitment to the security and protection of lives and properties of all citizens of Oyo State, which he has laboured hard to restore and maintain in the last six years," the aide said.
The Olubadan has been having a running battle with Governor Ajimobi over the review of the traditional institutions which has resulted in the crowning of new obas in the ancient city.
As a result, Olubadan has sued Governor Ajimobi over the crowning of new obas in the city, claiming that the governor and the government lacks the constitutional power to install new obas in the city.
In the suit filed before the state high court and dated September 19, Oba Adetunji alleged that the governor has violated the Chiefs Laws Cap 28 stressing that Governor Ajimobi lacks the power and authority to confer anybody the right to wear a beaded crown.
Among other 23 others joined in the suit were the Attorney General and Commissioner for Justice, Commissioner for Local Government and Chieftaincy Matters.