Forcing A Horse To River: Challenging Sen. Abu Ibrahim – Mal. Yusuf Saddam Saleh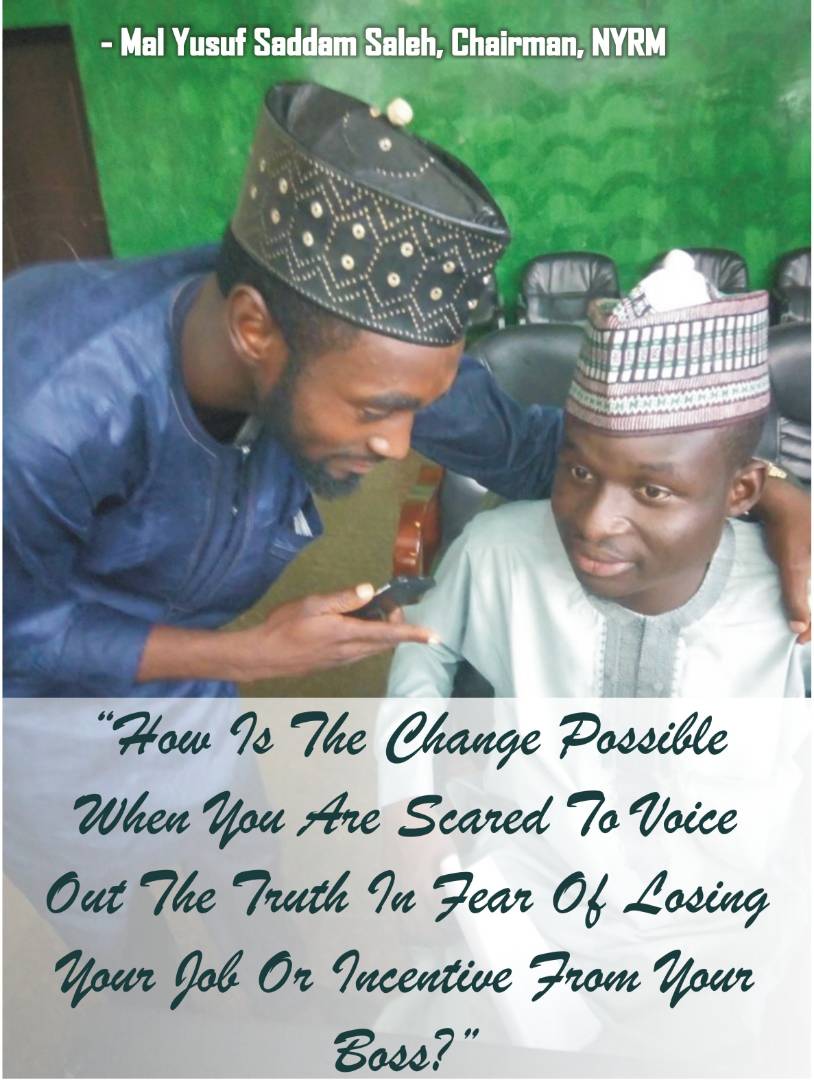 Sequel to registering our dissatisfaction on the seating Senator Abu Ibrahim which led to setting machineries in motion in recalling him, a lot have been said upon the strong strugglers of truth, community development and nation building.
Some said, we have been paid to carry out the movement while others termed it as an act of enviness and greediness, while some say we are nothing but fraudsters working for the opposition party to tarnish the image of the ruling party. When all these stories failed to work by the propagandists, we were finally disowned.
To God be the glory, I in person, Mal. Yusuf Saddam Saleh, do not belong to any political party, all I belong to, is party of competency, that's why President Muhammadu Buhari shall forever and ever remain my only candidate and party, and that's because of the competency I found in him. I can only agree with the policies of Senator Abu Ibrahim if and only if he loves and wants the development of our dear Funtua zone, whereas no, then I too and the likes of me would continue to oppose his policies forever.
After setting the motion for the recall, I was left with no option and intention to release another article related to Sen. Abu Ibrahim again, for I personally, socially and religiously wise have achieved in creating awareness and setting machineries in motion, because our youth today have become more conscious and alert on community development. Today as I'm voicing out, youth have taken this movement more serious than many of their activities, we succeed in informing them that they have no any other important place than Funtua zone and if the zone is not economically developed, socially and otherwise, our younger ones would certainly point an accusing finger upon us tomorrow. I believe today, with me or not me, with KASAVA or FUZAF or not this movement would certainly continue.
However, it has become a matter of emergency and necessity to voice out convincing facts no matter the bitterness, at least our respective educative fellows that have turned to political toys could see reasons and come to convincing point, join hand together and fight this seat warmer that have diverted public projects to place that remains unknown. By so doing I believe we could together uplift our community to a greater marathon.
Today at this point in time, I challenge Senator Abu Ibrahim and his entire supporters to provide us with answers on these so called executed projects that cost billions of naira, these include:
1. Youth Empowerment/Development programme in all 11 LGAs of Katsina South Senatorial District at the cost of One Hundred and Fifty Million Naira (N150,000,000). Distinguished Senator who are those youth that benefitted from this programme, when and where?
2. Construction of Zonal office at the cost of Forty Million Naira (N40,000,000). Please distinguish, where is the zonal office?
3. Construction of Unguwqn Dahiru – Taforki Road in Faskari LGA at the cost of Eighty-Nine Million Naira (N89,000,000).
4. Construction of Mahuta – Tumburkai Road in Faskari LGA at the cost of Fifty Million Naira (N50,000,000)
5. Construction of Dayi – Gwarangozai Road at Malumfashi LGA at the cost of One Hundred Million Naira (N100,000,000).
6. Construction of Barmo, Kahutu to Kokami – Dabai – T/Wakili Sabuwar Kasa Road in Bakori/Danja/Kafur LGAs at the cost of One Hundred Million (N100,000,000).
7. Tukusha multipurpose Dam put project in Faskari for irrigation and water supply (study, land survey, land acquisition and compensations, designing and construction (phase I)) at the cost of One Hundred Million Naira (N100,000,000). Distinguished senator, who did you compensate and when?
8. Construction or Sulma Dam in Kafur LGA at the cost of One Hundred Million (N100,000,000).
9. Study and design of Musawa Dam, in Musawa LGA at the cost of One Hundred and Fifty Million Naira (N150,000,000).
Source: Published by national assembly budget and research office (NABRO). www.nabro.org.ng
Distinguished Senator, with due respect to your kind personality and age, on behalf of the entire reasonable and good people of Karadua, we need convincing answers to these questions, when you succeed in answering, we shall then proceed to next questions. Thank you distinguish.
To social media or political toys that have been subjected to social media slavery, please if you are to reply on his behalf, do that constructively with facts.
To the general public, these are some of our reasons for the recall, more detail shall follow later.
However, there is need to clear out the saying that Sen. MT Liman, Sen. Yakubu Lado Dan Marke did not contribute anything to the development of Funtua Zone. Yes, the saying could be right, though can not be compared in all angle with the current scenario. Yesterday has passed and it was an experience toward adjusting and planning for tomorrow. Regarding this, I may blame you for not doing anything with respect to it while you were aware.
Yesterday was yours and Today is ours, help us achieve or keep silent.
With this I conclude, forcing a horse to river but failed to drink from the river.
This was neither written in anger to slam some personalities nor was it in joy to satisfy some sets, rather in cool mind with focus and vision.