Atiku Commends President Buhari For Directing World President to Focus Support On Northern Nigeria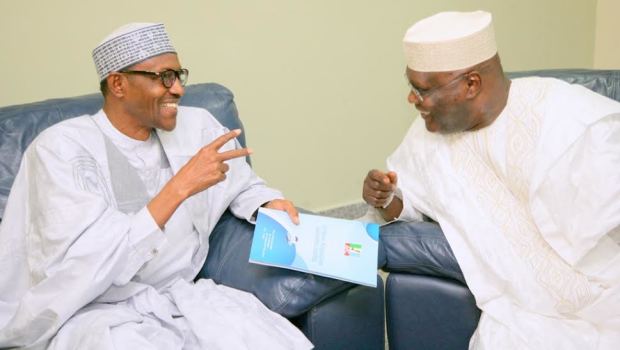 Former vice president Atiku Abubakar has commended President Muhammadu Buhari for directing the President of the World Bank, Jim Yong Kim, to focus the institution's support for Northern states.
The Waziri of Adamawa made this known in post on his Facebook page on Saturday.
Atiku said he's "glad to hear the President of the World Bank Group, Jim Yong Kim and the IMF Managing Director Christine Lagarde reiterate some of the points I've made recently in the ongoing conversations on restructuring as it relates to investing more in human capital, infrastructure, education for our people, etc.
"I'm also glad to learn of the work both organizations are doing, in partnership with the Federal Government to boost and stabilize our economic growth."
Restructuring
The former vice president also shared a link of a speech titled 'Restructuring for a united and progressive Nigeria' he delivered at the University of Nigeria, Nsukka (UNN).
It reads in part: "My vision of Restructuring, will not make some States richer and others poorer. Restructuring is a win win for all Nigerian states.
"So let me make it clear beyond any possible doubt: the Restructuring I am proposing will not reduce the share of our nation's oil revenues that any state currently enjoys. However, if we are to grow our revenues we need to change the way we think of our resources and nurture them for the benefit of all.
"Let us start by not thinking as if our resources consist only of oil. Oil is not infinite. In fact, within the industry, the oil majors and multinationals are looking for ways to further invest in alternative energy because, in the next 10-20 years, the proportion of the energy market share that fossil fuels hold will shrink and almost vanish even as that of alternative energy is set to rise dramatically."