Entertainment
Actress, Tayo Sobola Speaks On Romance With Senator Ganiu Solomon, MC Oluomo (Interview)

Nollywood hotshot, Tayo Sobola's impressive rise in the entertainment industry is an inspiration to many upcoming acts. Though she is more famous as a Yoruba movie actress, Tayo actually cut her teeth in role interpreting as an English speaking actress before embracing acting in her mother tongue.
Today, she is an accomplished movie producer, actress, presenter, model, entrepreneur, philanthropist, and video vixen.
In this interview with encomium.ng the light skinned graduate of Sociology from Olabisi Onabanjo University, Ogun State speaks on her career, relationship, the many controversies trailing her and so much more…
Can you share with us your experience while growing up?
Growing up was fun for me, but the only constraint I had was that I was always indoors.
My movement was restricted by my mother. It was really nice, I grew up in a polygamous setting. So, it was nice growing under the shelter of my mum.
You grew up in a polygamous family, how has that affected you?
Well, I don't think I want to start a family like that, it's not easy. I don't know why a man will want to keep two wives in the first place.
Different issues keep sprouting up, this woman's children is not happy with that woman child, so many issues. If the two mothers are not in good terms, the children will definitely have issues with each other. That I don't really like. I don't even know the whereabouts of my half brother and sisters, all I know is about me and my brother.
You have a lot of things working for you. Presenting, acting and modeling; but you seem to pay more attention to acting. Why is that?
I did not start up as an actress. I started as a model then as a video vixen in musical videos and presenting. Some refer to me as a Yoruba actress today, but I debut my acting career with English speaking movies, now I juggle both.
You switched from English speaking movies to the Yoruba speaking ones, what is the difference between the two genres of movies?
In the English speaking genre, you can feature in over a hundred movies and you won't get noticed, but the Yoruba speaking movies, if you are different and talented, just feature in five good movies, you will be noticed. People can't even point out that I have acted in an English movie before, but, I do both. They can always tell that I am a Yoruba actress.
Did your mother give you full support when she knew you were going into acting fully?
My mom has always pictured me to become a lawyer. She never saw me as an actress. She was never in support of it. When I told her I was delving into acting, she complained bitterly about my plan that I was neglecting her dream of me becoming a legal luminary. As time passed, she supported me fully.
As an actress, you are also a producer.How were you able to get funds to shoot movies?
Everybody has what they use their funds for. Some might want to buy a car with their money, and some for other purpose. For me, the little money I had then, I decided to use it to make my own movie. How I got the money, I started making money at an early stage of my life, so, I was doing a whole lot of buying and selling. I had the opportunity of travelling abroad frequently, so I get stuffs and sell here in Nigeria. I have people award series of contract to me, and jobs to do for them. Through these means, I was able to raise the funds to shoot those movies.
You have everything going well for you, but you are not talking about marriage why?
Laughs, Well, I am engaged; but not married.
My relationship is not what I want to unveil to the media for now. Don't be surprised you might see metomorrowwith my child.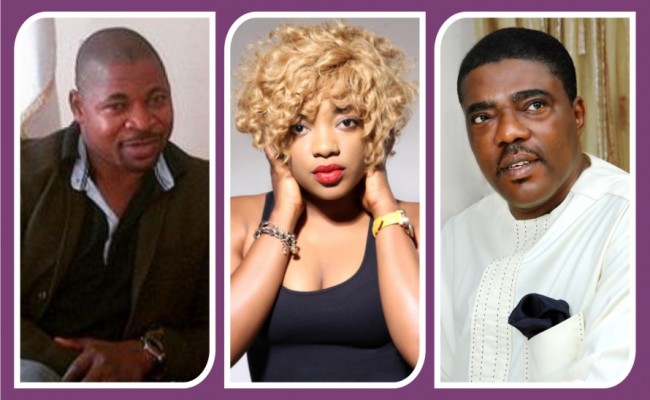 There were stories that went viral about you having an affair with popular socialite, MC Oluomo and then Senator Ganiu Olarewanju Solomon (GOS). What is the real truth behind those stories?
Well, if some people don't see you with any man and they eventually see you with somebody, especially, when you have things going well for you, they assume you are having an affair with that individual. MC Olumo is a person you can't hide or run away from, apparently, I don't have any issues with him, so I see no reason why I have to avoid him. I don't have any kind of romance with him; but as regards Senator Ganiu Solomon, he is like a father to me.
You have appeared in several musical videos, comedy skits and movies, you also appeared in Olamide's 'Don't Stop' video and several times you have posted stuffs about him on your social media platform and you attend his shows. What is the relationship between you both?
Olamide is more like a brother from another mother. His humility has made him achieve so much and he is still going to achieve more. I can always stand anywhere and vouch for him. I had to go and support him for his 'OLIC' in the United States. Basically, Olamide is my brother.
Late last year, you opened a multi-million naira production studio situated in Lagos, since when have you been nurturing that idea?
I have always had it in mind having my own company, where I do entertainment business. But, I decided to do it now because the time is now. At this stage, I don't think I can still do movies or production and still take it out to edit. I believe I have the time and strength to handle a proper production company right now.
People say you don't relate with your colleagues in the industry how true is this?
I don't have problem with any of my colleagues. I have a good relationship with them. I greet them often, and we exchange pleasantries. I don't know about any allegations. I am close to virtually all of them.
But I believe they are in a better position to explain that. I try as much not to step on their toes and respect myself.
What is that thing that has made you weep before?
My father's demise. When I was starting the entertainment business, my mum would report me to my dad and he will call privately and ask me if that is what I want to do and I will tell him yes. He would offer his candid advice and tell me to follow my dreams.
Here I am today; my dad is not here to see how far I have gone and how well I am doing. At times, while doing things, I wish my dad was alive to see it. I have missed that fatherly love. I actually get it from other people but I still wished my dad was alive.
How do you react to Negative stories about you?
It's my eleventh year in the entertainment industry as a whole. I read a lot of things about me on the internet, newspaper and magazines; I heard people talk lies about me.
I have learnt to wear a thick skin and turn deaf ears to negative stories. That is the only way you can go forward in the industry, just ignore.
What is next project from the stable of Sotee entertainment?
I have done some movies Idakeji Ife, Egan, Corper Jide, Bella, Arewa Onijogbon etc. I am doing two English movies, and two other Yoruba movies which will be released soon.